what is p2E and why its trending
Competitive Gaming or eSports is mostly known as a means to play and earn or Play-to-Earn (P2E). Currently, this is the main part of the paradigm as revenues from this platform are expected to go beyond $1 billion this year. However with the intersection of gaming with crypto and NFT, we are witnessing a new variation where every player earns by playing in this emerging blockchain based version of P2E (some call it P2E 2.0). This allows addition of NFT to core game dynamics which enables P2E to break out to a mass audience who don't even play games. This is achieved by connecting game economy with real-world finance and allowing players to own and trade in-game assets using the power of blockchain.
With COVID-19 pandemic hitting people on their incomes and forcing people to stay at home, this significantly accelerated the P2E movement. Generating money is the key attraction in P2E games as players can earn cryptocurrencies while playing, thanks to decentralized finance (DeFi) and non fungible tokens (NFT). These games have been gaining massive popularity since the rise of Axie Infinity in second half of 2021. This has led to a new age of blockchain gaming like never before. In The Philippines, people are making more money by playing Axie Infinity than they would make by doing office jobs!
how it works
There is a lot of theory on how economies work, but I'm a big fan of explaining things with example. So I found a very good blog here which deconstructs Axie Infinity brilliantly. To tell about the game in one line, you buy/earn NFT creatures called Axies and go in battles with them. You can read in more detail in the blog.
So, at the core of the game (along with Axies), there are three resources:
Energy: Each battle uses energy. If player is out of energy, they can still battle but they wont win SLP or gain experience. This iterates the importance of energy in the game. The amount of energy a player can have and how quickly it regenerates depends the number of Axies player has. This also encourages people to buy more Axies.
SLP (Smooth Love Potion) is an in-game currency that is rewarded on winning battles. SLP is also one of the two currencies, along with AXS.
AXS or $AXS: It is an ERC-20 token that exists on the blockchain. AXS has other non-gaming uses, but in the game it can used for Breeding new Axies alongside SLP.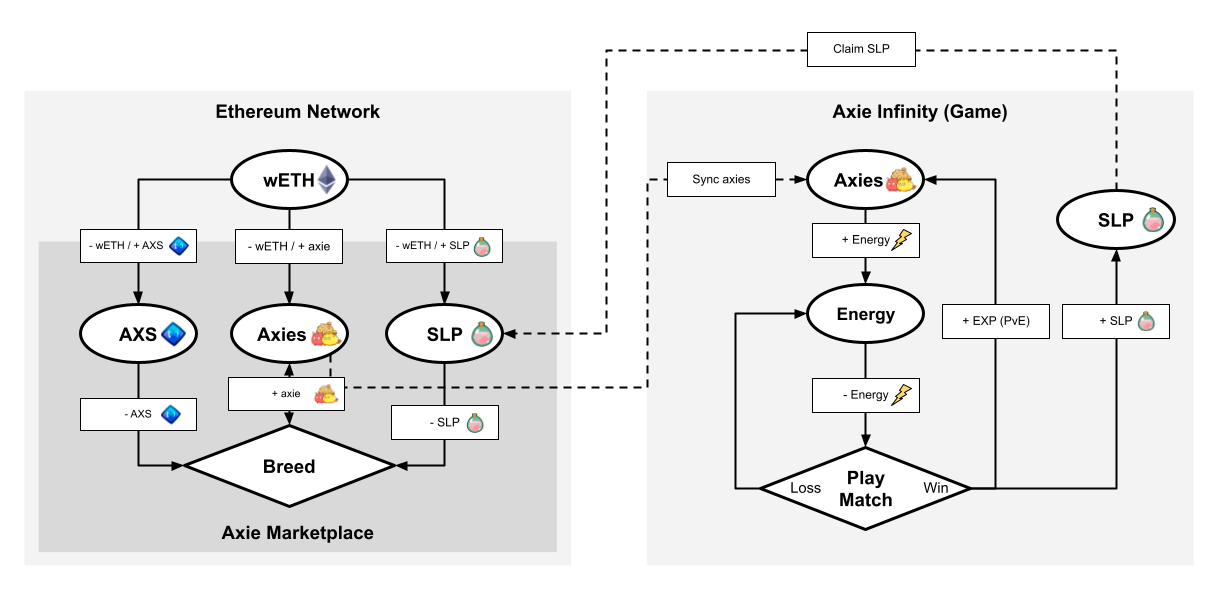 SLP is the key currency here at the center of the game. Player gains XP and SLP by doing battles against AI and real players. However, player only gains XP and SLP when player has energy. The energy cap and creation rate can be increased by purchasing more Axies. Player can move the SLP amount into Ronin Wallet (on the chain) after every 2 weeks. This SLP can also be used for breeding Axies.
some p2e games in highlight
We have already discussed Axie Infinity above. Although there are many good games out there, we would like to highlight 2 more games that you should definitely try out.
sand box
As discussed in our previous blog, the game is community-driven platform where creators can monetize from virtual experiences and assets.
Sand box plans on having events at regular intervals. From time to time, there will be events, activities and contests where players can win $SAND tokens or NFTs (such as ASSETs or LAND).
One of the events that is happening right now is The Sandbox Alpha Pre-Season 0. It will allow players to earn $SAND through Play-To-Earn. Players will be able to earn $SAND for playing games. Players who own The Alpha Pass can try out 18 game experiences, while earning up to 1000 $SAND in the process for completing all objectives of the Alpha. In addition there will be three exclusive NFT awards. You can buy the pass from Sandbox's website OR can trade with another player on OpenSea
There is also another way to earn for community members. Members can watch official livestreams that are hosted on Wednesdays and Saturdays. By just watching, members have the chance to randomly win an NFT or $SAND.
REVV RACING
Revv Racing is a car racing game developed by Animoca Brands and is on the polygon blockchain network. To get started, you need a wallet where your car NFT will go. The car be purchased from OpenSea for about 0.003 ETH ($40). All assets in the game are NFTs, allowing players to not only have ownership over cars, but also over car parts, trophies, driver equipment etc.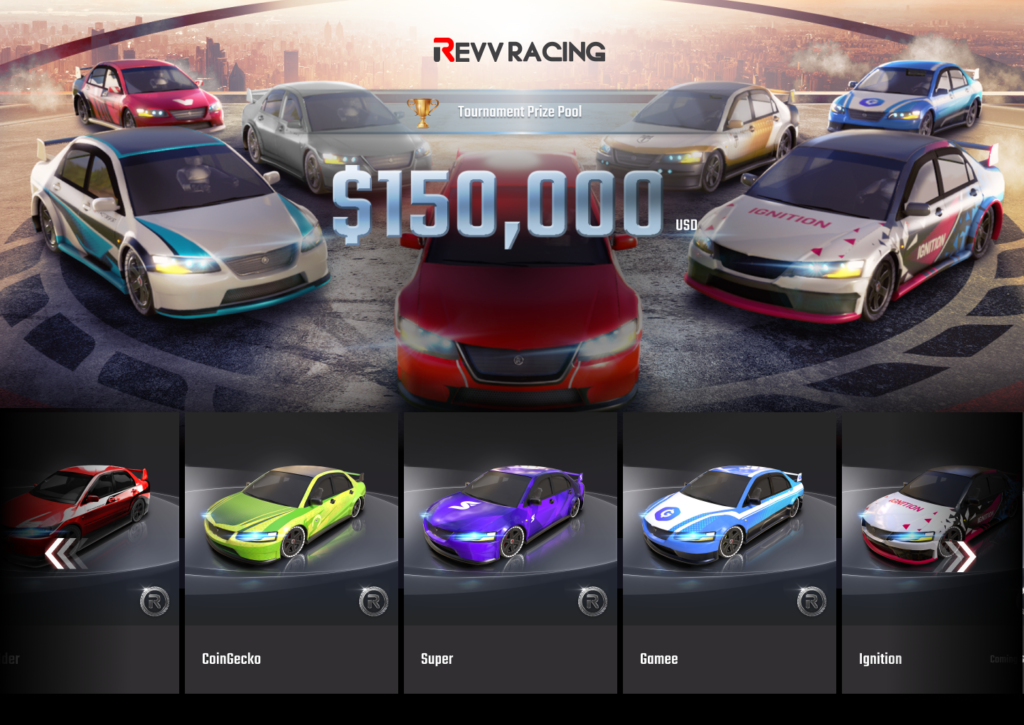 There are regular tournaments that happen on regular intervals. One such tournament is YGG cup, where standings on the leaderboard are determined by player's fastest total race time. The prize pool of the top 1000 players consists of $150,000 worth of REVV (a token on chain). Also, the top 3 players receive a NFT trophy.
p2E takeaways
NFTs play central role in how blockchain gamers play and earn. One option is to earn in game currency by interacting with NFTs within the game, like battling in Axie Infinity. This currency generating ability improves value proposition of the NFTs for their owners. This has also led to another aspect where gaming guilds are buying useful NFTs and lending them to gamers in exchange for a portion of in-game currency players earn (think of it like Netflix of NFTs).
NFTs provide an extremely flexible mechanism for P2E game developers by allowing players to own an item and then build economies around it. P2E game developers are also building up on each other's designs, where they evolve the mechanics and add new twists. Though some developers are quite radical when it comes to innovations. One such example is Battle Racer, where you buy car parts as NFTs to assemble them into a car. Along with that, players can also disassemble it back into parts which can then be sold back into NFT marketplaces. For the reasons mentioned above, we expect innovation to thrive in this blockchain based P2E.
Expect lot of games to include P2E in 2022. We expect that gamers expectations towards gaming would be dominated by features offered by blockchain games. GenITeam is currently working on few more games. You can reach out to GenITeam for developing bespoke games. Review our portfolio for details.